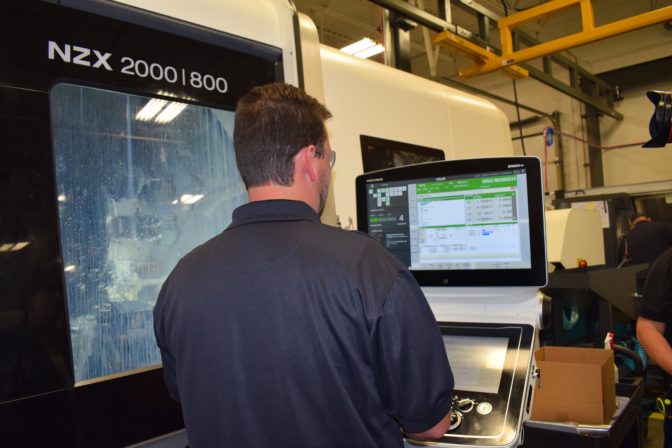 At the conclusion of Workforce Week in Washington, D.C., 12 new Utah partnerships were awarded $2,125,000 in grants to better meet the state's skilled workforce needs. Talent Ready Utah grants, formerly known as Utah Cluster Acceleration Partnership grants, are designed to strengthen collaboration between industry, education and economic development leaders to create talent pipelines for high-demand, high-wage occupations.
"Building Utah's workforce is essential for our economy and for the success of our families," said Governor Gary R. Herbert. "We need to prepare a critical mass of skilled workers in select economic clusters where there is demand. That can only happen if we have talent ready for those jobs."
Talent Ready Utah supports the governor's strategy for a qualified workforce in creating a more responsive post-secondary education system. Key initiatives will focus on increasing the number of employers who invest in high-quality, work-based learning partnerships with education and by developing the pipeline of talent. Talent Ready Utah grants support the creation of these partnerships between industry and education.
To highlight how apprenticeships and other workforce development programs work in Utah, news media were invited to tour Paramount Machine to see how a local apprenticeship program trains and supports apprentices to enhance their skills and advance their careers. This apprenticeship program was made possible by a previous Talent Ready Utah grant to the Northern Utah Chapter of the National Machining and Tooling Association.
Talent Ready Utah grants are administered through the Department of Workforce Services with state funds.
The 2017 Talent Ready Utah grant recipients are:
| | | | |
| --- | --- | --- | --- |
| Grantee | Award | Project | Partners |
| Mountainland Applied Technology College | $142,600 | Create a short term knowledge and skill-based mobile development program to include hands-on work experience | UVU, Mountainland Region Career & Technical Education Council |
| Snow College | $199,971 | Develop a secondary pathway program that leads to the two-year Computer Science and four-year Software Engineering Programs at Snow College | Central Region CTE; Juab, North Sanpete & South Sanpete CTE; Millard & Tintic CTE; Piute, Wayne, Sevier CTE |
| University of Utah | $193,100 | Develop post-secondary education career pathways for students with autism spectrum disorder | |
| Utah State University – Eastern | $50,000 | Assess industry needs and develop a viable career pathway for students in southeast Utah from middle school to graduate school | Carbon School District |
| Utah State University – Moab | $126,820 | Develop and implement stackable credential pathways within the Allied Health Professions | Grand County School District, Beacon After School Program |
| Utah Valley University | $202,800 | Create and articulate a Manufacturing Career & College Pathway that leads to certificate programs at MTC and UVU and stack into degree programs at UVU | MTC, Alpine, North Summit, South Summit, Provo, Nebo, Park City and Wasatch School Districts, Mountainland Region, American Leadership Academy, Utah County Academy of Sciences |
| Weber State University | $274,000 | Create curriculum for Advanced Hybrid and Electric Vehicle Systems; train the trainers for seven additional post-secondary schools and three school districts | UVU, Weber, Davis and Granite School Districts, DATC, USU Eastern, Snow, BATC, OWATC |
| Women Tech Council | $232,822 | Build a sustainable platform that focuses retaining women students in STEM degree programs through Industry Engagement, Industry Mentoring, Workforce Integration, Visible Impact and Leadership Opportunities | U of U, BYU, UVU, SUU, GOED, Rocky Mnt University of Health Professions, USTAR, EnableMint, RizePoint, Workers Compensation Fund, Dell EMC, Myriad Genetics, Contrevent, IM Flash, Health Catalyst, Workfront, Lucid |
| Duchesne School District | $148,863 | Implement project-based learning for students to work side by side with businesses to problem-solve complex issues and complete specific projects | |
| Granite School District | $200,000 | Offer summer coding boot camps to high school students in 10 school districts and redesign the Keys to Success program to focus on career pathway development activities beginning with Computer Science related programs | Alpine, Canyons, Davis, Murray, Nebo, Ogden, Salt Lake and Weber School Districts, Success in Education |
| Millard School District | $154,024 | Expose students to a real-world authentic Information Technology (IT) learning environment by having students provide tech support, website development and software/ development/coding for their schools | Beaver, Cache, Garfield, Grand, Iron, Kane, Logan, Murray, North Sanpete, Piute and Washington School Districts, UETN |
| Pinnacle Canyon Academy | $200,000 | Establish career pathway for secondary students to enter into an Allied Health Professions program ant USU Eastern and provide them with a six-week paid internship | USU Eastern, Gear UP, Castleview Hospital |