Approximately ⅓ of Utah high school juniors and seniors participated in concurrent enrollment during the 2013-14 school year – wherein students earn both high school credit for graduation and college credit corresponding to the first year of college. 95% of the college credit awarded last year was in general education courses and select technical education courses that are transferable among USHE institutions.
Financial Benefits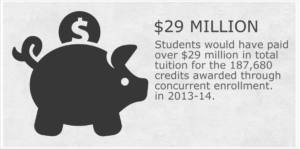 Utah high school students would have paid over $29 million in total tuition for the 187,680 credits awarded through concurrent enrollment in 2013-14. This amounts to anywhere between a $1,300 to $13,500 saved per student (depending on credits earned, status after graduation, and college enrollment). In recent years, the state legislature has allowed a small fee, up to $30/credit hour, that a USHE institution can charge students.  Even with such a small fee, concurrent enrollment provides a major cost-saving opportunity for Utah's college-bound high school students.
Increased college participation
Students participating in concurrent enrollment are nearly three times more likely to attend college within four years than students who don't participate. 67.7% of high school seniors that participated in concurrent enrollment enrolled in college their first year after high school graduation, a higher rate than the 53%  state average of all high school graduates.
Time to complete college
80% of students who participate in concurrent enrollment courses take 1-3 courses. In 2012, students who took 1-3 concurrent enrollment courses reduced their time needed to graduate college by almost two semesters when compared to a student who did not earn any college credits while in high school. This estimate includes credits earned through other means including Advanced Placement (AP), and International Baccalaureate (IB).
Per Student Savings by Concurrent Enrollment Credits Earned (Bachelor Degrees)
 Low-income students
Low-income students who participate in concurrent enrollment are almost twice as likely to attend college than low-income students who do not participate in concurrent enrollment. However, despite the advantages concurrent enrollment, participation among low-income students in concurrent enrollment is lagging. While over half of all high school seniors enroll in concurrent enrollment, only 36% of low-income students enroll in concurrent enrollment their senior year.
Additional data on concurrent enrollment.