EducationFirst and Prosperity 2020 launched a five-year plan for education in Utah on October 28, 2014. AXL – short for Academic Excellence – showcased a couple dozen speakers covering a variety of key education issues like literacy, advising, technology, and college preparation.  The event was the launching point for the five-year education plan, which aims to increase Utah's national ranking to among the top 10 states for the following areas:
4th and 8th grade reading.
4th and 8th grade math.
high school graduation rate.
percentage of adults with a postsecondary certificate or degree.
The Utah System of Higher Education continues its plan to increase the number of Utah adults with a college degree.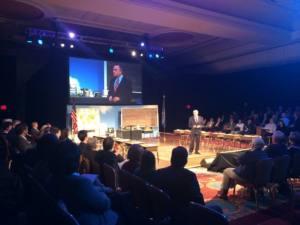 Commissioner Buhler offered brief remarks emphasizing the Board of Regents' priority on completion. As stated at the event, the Lumina Foundation recently published a list of the top 10 metro areas with the greatest share of adults with "some college, no degree." The three largest metro areas in Utah made the list: Provo-Orem (#1), Ogden-Clearfield (#2), and Salt Lake City (#9).
In July 2013, the Board of Regents adopted five specific strategies to improve college completions that were first implemented in Fall semester 2013. The strategies are in partnership with Complete College America and build on some effective initiatives already occurring at many USHE institutions.
A year in, as results are starting to emerge, there is already a significant increase in student course loads. In January 2015, USHE institutions will provide additional follow-up plans identifying specific outcomes in these key areas to better support students toward completing a certificate or degree.
Melissa Miller Kincart, Assistant Commissioner for Outreach and Access at USHE, presented on the critical role high school counselors can play in a student's college planning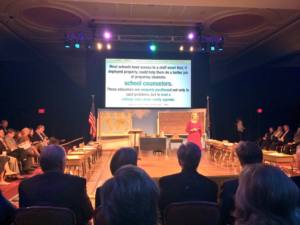 process. She highlighted several statewide programs that aim to increase awareness and planning for college starting in 8th grade, including Utah Scholars, StepUpUtah, and new certification programs focused on college readiness for secondary counselors which were launched at the University of Utah and Utah State University this past year.
Additional details of the event can be found via #uted2top10
USHE supports the well-proven idea that vibrant economies put education first. Actions of the Board of Regents in recent years have emphasized public higher education's role in the state's economy and that increased investment, innovation, and outcomes in higher education are critical to the state's long-term future. USHE will continue working closely with Prosperity 2020 and EducationFirst to work towards the key goals they have established.