A new study, How America Pays for College 2016, surveyed nearly 1,600 undergraduate students ages 18-24 and parents of undergraduate students ages 18-24. This survey looked at their attitudes toward college, how much they spent, and the sources they used to pay for it.
97% of American families believe college is an investment in their children's future, and almost 9/10 are willing to stretch themselves financially to pay for college. This year's report reveals some shifts in how families are making college more affordable and parents' expectations of their college students.
Families pay less out of pocket for college as scholarships and grants cover more of the cost.
Families paid less out of pocket for college in academic year 2015-16 than in 2014-15, as they took advantage of more scholarships and grants to foot the bill. Compared to 2014-15, families paid 7% less from out-of-pocket funds, which includes income, savings, and borrowed funds.
Scholarships and grants covered 34% of college costs, the largest proportion of any resource used to pay for college in the past five years. Half of families used a scholarship or grant to help pay for college.
Fewer than half of families borrowed to pay for college. Student borrowing covered 13% of what families spent, down from 16% in 2014-15.

Family expectations and planning affect a student's future college options.
90% of parents expect their student to earn a bachelor's degree and 54% expect their student to earn a graduate degree.
2/3 of families narrowed their college choices due to cost, but when it came to making the final decision, cost ranked third (cited by 27% of respondents), behind academic program and personal choice (each cited by 31%).
1/3 of students were attending community college as the first step toward a bachelor's degree.
2 out of 5 families created a plan to pay for college. Of those who plan, the parents were able to save 3.5 times more than those who weren't able to plan, and their students borrowed 1/3 less.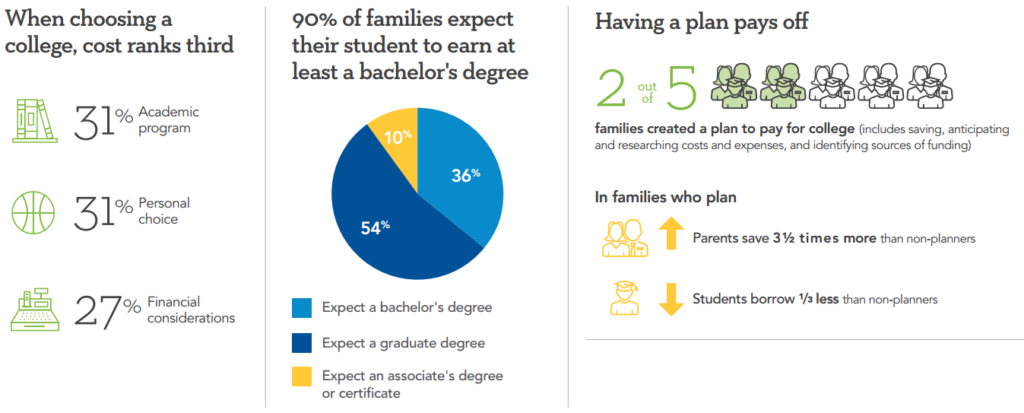 More information on this study found here.