This past year, the Utah System of Higher Education's outreach and access department, along with the Utah Higher Education Assistance Authority (UHEAA)'s outreach, have worked together to increase college readiness among Utah's high school students through the StepUp to Higher Education social awareness campaign. StepUp encourages all Utah students to dream big about their futures, and then act on those dreams by preparing for and completing college.
How is StepUp getting the word out about the importance of college readiness to students, parents and counselors?
StepUp has successfully increased efforts to engage students on social media via Twitter, Instagram, Facebook, and YouTube, as well as through StepUpUtah.com, growing to 10,000+ followers on all social media channels combined this past year. StepUp started a college preparedness blog, where high school and current college students are asked to share their experiences applying to, paying for, and attending college. Staff from Utah's public colleges and universities and USHE/UHEAA outreach also contribute to the blog, primarily in main areas such as test preparation, college admission, financial aid, and campus housing.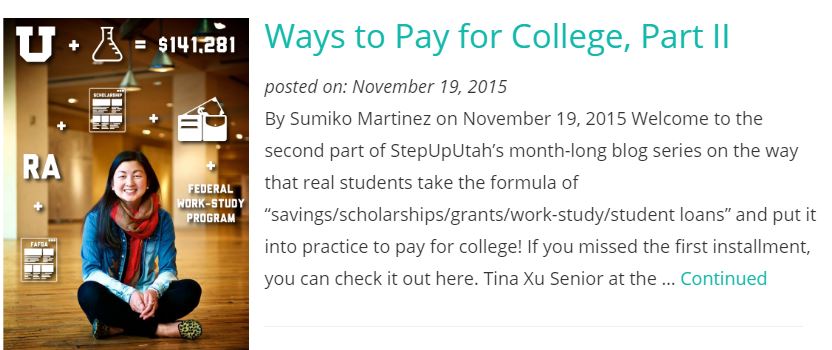 A monthly StepUp Newsletter was also launched at the beginning of this year and reaches 135,000 subscribers—the majority of them 8th- through 12th-grade students, school counselors, and parents. The newsletter includes a monthly theme with grade-specific content such as blog posts, a "Tip of the Month," a monthly scholarship opportunity, an event highlight, a "Did You Know" tidbit, and a downloadable resource. Often the resources include an action item specific to each grade, such as a checklist or a list of questions to ask when visiting colleges, for example.