The Utah System of Higher Education's (USHE) 2017-18 legislative budget priorities reflect the most pressing needs of USHE institutions, including the need to increase market demand programs such as data analytics, construction engineering, climate science, biochemistry, respiratory therapy, and human resource management. USHE institutions have started to take measures to add many of these market demand programs to their degree offerings.
Last year, USHE institutions added 97 new certificate and degree programs. These include 1 doctorate program, 10 master's degrees, 12 graduate certificates, 22 minors, 11 baccalaureate degrees, 2 Associate in Applied Science (AAS) degrees, 4 certificates of completion, and 24 certificates of proficiency.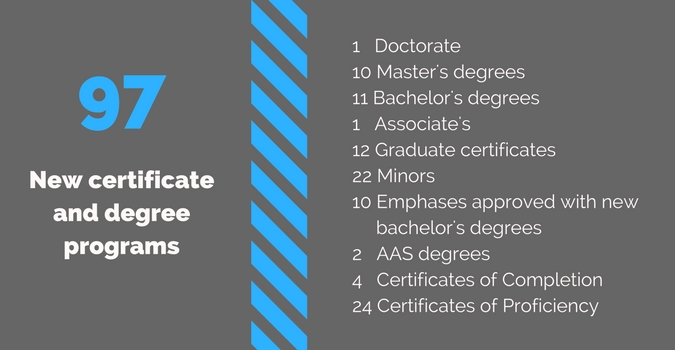 USHE institutions are also continually working to ensure their programs stay relevant to the needs of Utah's economy, industry and workforce. As a result, changes were made to 107 existing programs, including 38 program and emphases/minors discontinuances and 4 program consolidations.
Notable Programs
Graduate: Last year, Utah Valley University added five master's degrees: Social Work, Public Service, Cyber Security, Computer Science, and Accountancy. The University of Utah was approved for a Nutrition and Integrative Physiology doctorate, a master's in Business Analytics, and several graduate certificates, including Global Medicine, Intellectual Property, International Law, and Hydrology and Water Resources. Utah State University added an Executive Master of Accounting. Southern Utah University included a Mobile Teaching, Learning, and Design graduate certificate, as well as Secondary Education and Teaching graduate certificate.
Undergraduate: Weber State University added bachelor's degrees in Biochemistry, Outdoor and Community Recreation, andEmergency Healthcare Services bachelor's degrees. Snow College was approved for a bachelor's in Software Engineering, and USU added a bachelor's in English Teaching Composite, as well as Climate Science. Dixie State University added several minors, including Economics, Humanities, Management, and Marketing. SUU included an Arts Administration minor, and Salt Lake Community College added several Certificates of Proficiency, including Certified Electronics Technician, Fundamentals of Information Assurance and Cyber Defense, and Medical Office Administration.