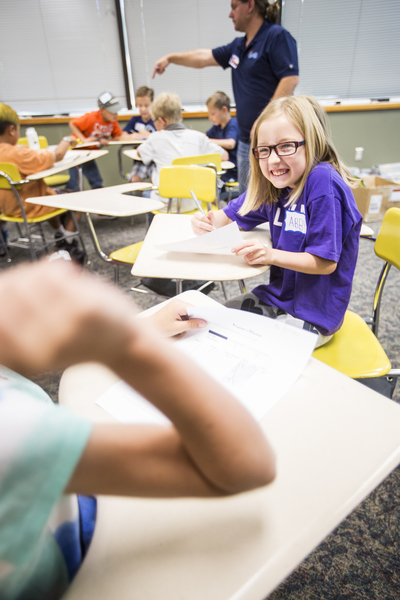 Institutions in the Utah System of Higher Education are busy this summer engaging K-12 students with exciting, hands-on, high-tech STEM summer camps during June and July. The summer camps encourage students to have fun with science, technology, engineering and math, and build their confidence and ability in these key subject areas.
Girls-only STEM summer camps
Many colleges and universities are hosting girls-only STEM camps, to encourage better participation by women in STEM fields. For example, Dixie State University's overnight eSMART Summer Camp for Girls is now in its fifth year, and participants explore different scientific disciplines by building asteroids, isolating their own DNA, and working with archaeologists. Southern Utah University and Dixie State University are partnering together for Girls Go Digital, a camp designed by girls, for girls – and presented by women and men who support the greater involvement of girls in engineering and computing. The University of Utah's Hi-GEAR (Girls Engineering Abilities Realized) camp is over ten years old, and introduces girls to engineering and computer science careers with hands-on learning and team projects.
Overview of STEM summer camps at USHE institutions
Below is a snapshot of just some of the STEM camps USHE institutions are hosting this summer.
University of Utah
From aviation to robotics, video game programming to web design, the U's engineering and math camps give participants the opportunity to explore their favorite STEM subjects using reason, imagination and innovation. For example, at the U's Exploring Engineering Camp, participants are introduced to a variety of engineering fields, from chemical to environmental. At the Summer Transportation Institute Camp, ninth-grade students explore the transportation industry with professional researchers and faculty from the U.
The U also hosts a variety of science and technology camps, which teach students diverse skills such as how to take and edit digital photos, make their own website, design mobile games or apps, and even participate in anatomy and physiology labs. Also, the GREAT (Graphics and Robotics Exploration with Amazing Technology) summer camps are aimed at students who want to use their creativity while learning about computer graphics, robotics and programming by making games, animations, and robots.
Weber State University
WSU will present summer science camps in various subjects, including neuroscience, space travel, how to build a roller coaster, and video game design. WSU professors or alumni will teach a majority of the camps. At Space Camp—one of WSU's most popular camps—students learn basic physics, astronomy and cosmology, as well as the history and use of rockets, through engaging, hands-on activities.
This summer WSU is hosting 75 seventh-grade students for WSU PREP, a seven-week long academic enrichment camp designed to prepare and motivate students to pursue studies and careers in STEM fields. This camp is free for students in area school districts, and these students will participate in field trips and classes, as well as receive tutoring from college-age mentors.
Southern Utah University
SUU's Technology, Engineering Computer Science (TECS) Summer Camp is in its third year, and enrollment has nearly doubled each year. TECS participants stay on campus and learn STEM disciplines through interactive experiences with professors and professionals in various STEM fields. Middle School Student Camp, which mixes science with outdoor fun, includes a three-day, two-night trip to Zion National Park – Ponderosa Ranch. SUU also presents Health Career Exploration Camp, a three-day camp designed to help students pursue a future career in healthcare. High school students will participate in workshops, lectures and panel discussions showcasing different healthcare careers.
As SUU is the only university in USHE to offer a STEM teaching endorsement for K-12 educators, it is also hosting two of these endorsement camps this summer:
July 27: Elementary STEM Endorsement training for K-12 teachers
July 6 and 7: ArtsFusion Summer Institute for K-12 teachers (on how to combine art with science and math in the classroom)
Dixie State University
In addition to the eSMART and Girls Go Digital camps mentioned previously, DSU will present a variety of Computer Camps for different ages throughout the summer. These encourage youth to develop an interest in computers and technology, and introduce them to basic computer programming, web design, and more.
Utah Valley University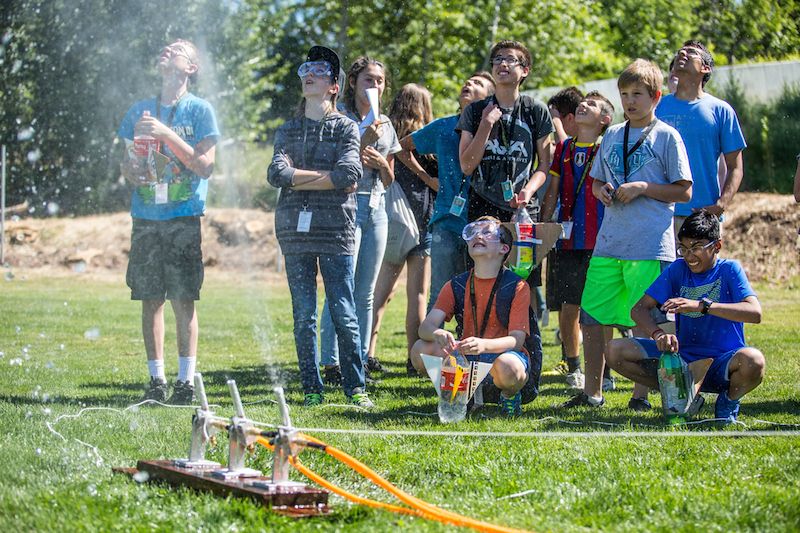 UVU hosts a seven-week summer PREP program to help prepare 7-9th graders for STEM success. This year, students participated in activities such as dissecting cow hearts, touring the research facility at Hill Air Force Base, and visiting museums in Provo and Salt Lake City.  The program also includes logic-based math and engineering classes, career awareness presentations, mentoring and tutoring sessions with current UVU students, and research and study classes. In addition, UVU also hosts a Math Adventure Camp for elementary-school students designed to teach math concepts, thinking skills and problem-solving abilities in a way that is fun and exciting.
Salt Lake Community College
SLCC will present Slick Science, a youth science summer camp for children ages 8-14. It aims to foster an interest in math, science and engineering. Students will explore robotics, chemistry, engineering, physics and more.