Utah's public colleges and universities spent the month of April—designated as Sexual Assault Awareness Month—hosting film screenings, rallies, art displays, workshops, group counseling sessions, and much more, all aimed at raising awareness of campus sexual assault.
University of Utah
The University of Utah participated in the national It's On Us campaign, which aims to fundamentally shift the way we think about sexual assault, by inspiring everyone to see it as their responsibility to do something, big or small, to prevent it. The Associated Students of the University of Utah's It's On Us Week took place April 4-8. The theme for this year was consent, and focused on adding an active intervention piece to the campaign. Throughout the week there were various booths in Library Plaza where students could get involved. Students had the chance to take the It's On Us pledge; there was a booth where students can receive a University of Utah decal by putting emergency numbers (university police, counseling center, national rape recovery hotline, etc.) into their phones; and each day a different sexual assault resource center was showcased. There was also a photo booth for students to express how they support survivors of sexual assault. These photos were hung the following day in Library Plaza for the remainder of the week.
Utah State University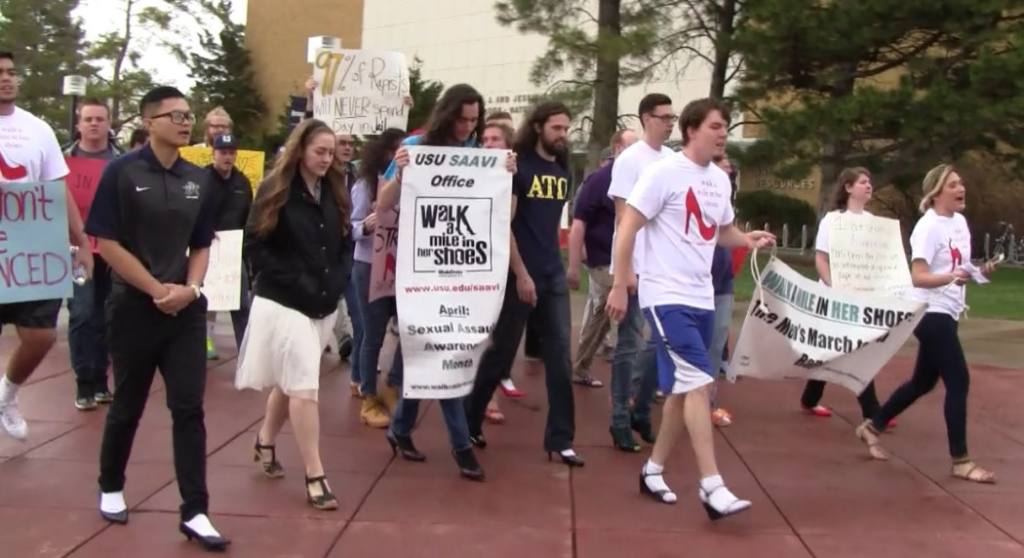 Utah State University hosted Walk a Mile in Her Shoes on April 13, which is an opportunity for men and women to take a stand against sexual violence and other forms of gender violence by walking a mile in high heel shoes. This event is an annual fundraiser for USU's Sexual Assault & Anti-Violence Information office to continue serving survivors of domestic violence, dating violence, sexual assault, and other forms of interpersonal violence. They also screened The Hunting Ground, an award-winning documentary on campus sexual assault.
Weber State University
Weber State University held many events for Sexual Assault Awareness Month, including a screening of The Hunting Ground and a Take Back the Night rally, a protest against sexual violence. WSU hosted a Finding Voice Women's Group through its counseling center, as well as several workshops on bystander intervention, including those specific to LGBTQ students. They also held informal discussions about the Clery Act and hosted a book club meeting about Jon Krakauer's Missoula: Rape and the Justice System in a College Town.
Southern Utah University
Southern Utah University will host the Clothesline Project from April 6-13, which is a visual representation of the experiences of survivors of rape/sexual assault. On April 7, the SUU Leavitt Center hosted a Bystander Intervention training, facilitated by Canyon Creek Women's Crisis Center. SUU encouraged students to take the It's On Us campaign pledge April 6-8 as well. Those students who signed the pledge got an overlay on their social media photos and a teal ribbon that will hang in the Leavitt Center's office.
In addition to these events, SUU is starting a new program to provide training for faculty and staff, helping them develop the knowledge and skills to engage with students who may be struggling with issues like sexual violence. Called CAST (Care and Support Team), this program gives every staff and faculty member on campus the opportunity to develop the skills they need to be a primary support person for students in distress.
Snow College
Snow College hosted the Clothesline Project at their campuses in Ephraim and Richfield. The New Horizons Crisis Center also attended the event to educate and empower the student community against sexual violence.
Dixie State University
Dixie State University screened The Hunting Ground documentary on April 21 with a panel discussion following the film. The DSU Women's Resource Center teamed up with the DOVE Center, a local agency that provides safe-shelter, crisis intervention, and prevention for clients who have been experienced violence in their homes, for a weekly advocacy group for survivors of sexual assault and domestic violence. The meetings will continue through the month of April.
Utah Valley University
Utah Valley University hosted the It's On Us Week of Action (in association with the national It's On Us campaign), which aims to raise awareness of and change thinking about sexual assault on college campuses. The It's on Us Week of Action is a collaborative effort among various departments and student organizations to help create awareness about sexual assault and the ways to prevent sexual assault on college campuses. Events began with a concert featuring Madilyn Paige who starred on NBC's The Voice. Other events include a presentation on sexual assault recovery, opportunities for students and employees to take the It's On Us pledge, the Clothesline Project, a workshop on healthy relationships, and a screening of the documentary film Yeah, Maybe, No, which follows the story of a survivor of sexual violence.
Salt Lake Community College 
Salt Lake Community College also participated in the It's On Us campaign, encouraging students to stand up to sexual violence by being a proactive part of the solution. The campaign focused on awareness of campus sexual assault and consent.