Utah is a state of opportunity.
As the state with the youngest population in the nation and a quickly growing economy, Utah is full of opportunity. It continually ranks as the top state for business, career opportunity and economic competitiveness.
To maintain this upward trajectory, higher education is critical.
Today's jobs require an increasing amount of postsecondary education and training. Employers value  a talent force that is not only technologically savvy, but also adept at soft skills critical to workplace success, such as communication, critical thinking and social awareness.
As eight out of ten Utah high school graduates who go to college attend one of Utah's public colleges or universities, USHE is the primary workforce pipeline in the state. Utah's economic vitality and quality of life rests heavily on the ability of USHE institutions to support their students in earning a degree or certificate.
But there are challenges.
USHE anticipates 50,000 new students by 2025. Utah has fallen behind in higher education achievement relative to the rest of the country. A stark higher education achievement gap remains among majority/minority communities and income groups. And Utah continues to be among the top states in the nation for those with "some college, no degree."
Clearly, Utah must increase the proportion of its population with a college degree or certificate to build state prosperity into the future. This can only be accomplished by ensuring higher education remains accessible and affordable for all Utahns; guiding students toward graduating in a timely manner; and giving students the opportunity to discover, learn and engage with the communities, employers, and the world around them through state-of-the-art technology and instructional design.
A strategic plan is needed.
Recognizing these crucial crossroads and the role higher education can play in ensuring Utah sets a path for a successful tomorrow, the Board of Regents and the Utah System of Higher Education (USHE) are embarking on a ten-year strategic plan, focusing on critical goals, proven strategies and needed investments in higher education. It is based around the strategic objectives of the Board of Regents, approved in January 2015: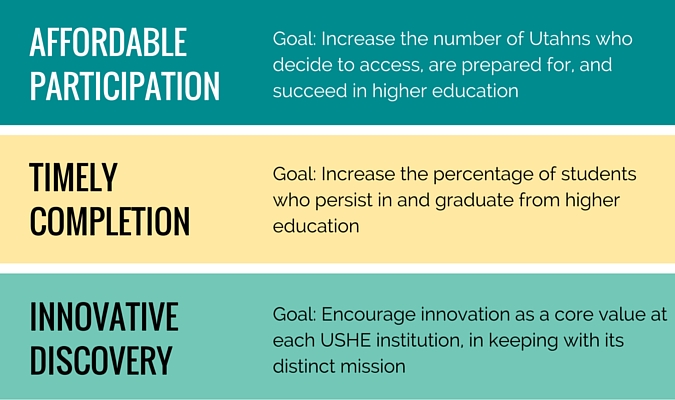 Public comment is encouraged.
USHE invites public comment on the plan, the most recent version of which is above. This document might be updated and revised moving forward. Please send any comment to plan@ushe.edu. USHE will be taking public comment on the strategic plan until December 31, 2015.