The president of the National Collegiate Athletic Association (NCAA), Mark A. Emmert, addressed hundreds of Utah State University student athletes, students and faculty in a visit to the USU Logan campus on Thursday, April 14. President Emmert spent the morning meeting with 400 student athletes as well as coaches and athletics staff. He toured the campus, met with USU leadership in the afternoon, and then spoke to an audience of students, faculty and staff about how the NCAA is helping students succeed in college and beyond. President Emmert emphasized the importance of sports in teaching leadership, teamwork and other social skills necessary for success in all facets of life.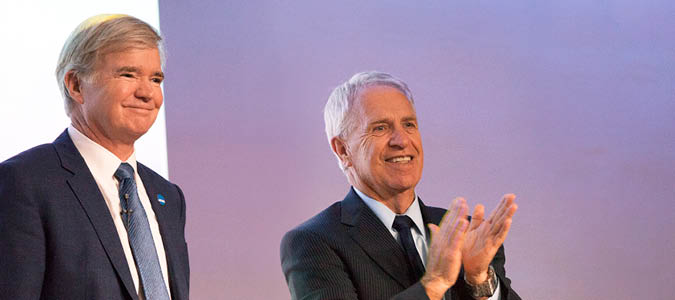 NCAA President Emmert and USU President Albrecht
About Mark Emmert
President Emmert became the NCAA's fifth president in 2010. Previously, he was president of the University of Washington, his alma mater. He has also served in many capacities throughout his career in higher education, including chancellor of Louisiana State University, provost and chancellor of the University of Connecticut, provost and vice-president for academic affairs at Montana State University and associate vice chancellor for academic affairs at the University of Colorado.