During November 2016, almost 20,000 high school seniors from 32 school districts (117 high schools) throughout the state participated in Utah College Application Week (UCAW) events. 
Utah College Application Week events give high school seniors the opportunity to apply to college during the school day, with advisors available to help with the application process as needed. Lieutenant Governor Spencer Cox as well as presidents from Utah's public colleges and universities participated in kickoff assemblies around the state. In a follow-up survey, 86% of participants reported UCAW increased their interest in going to college after high school.
Last year, the program was officially recognized by Governor Gary Herbert through a declaration stating that November was "Utah College Application Month."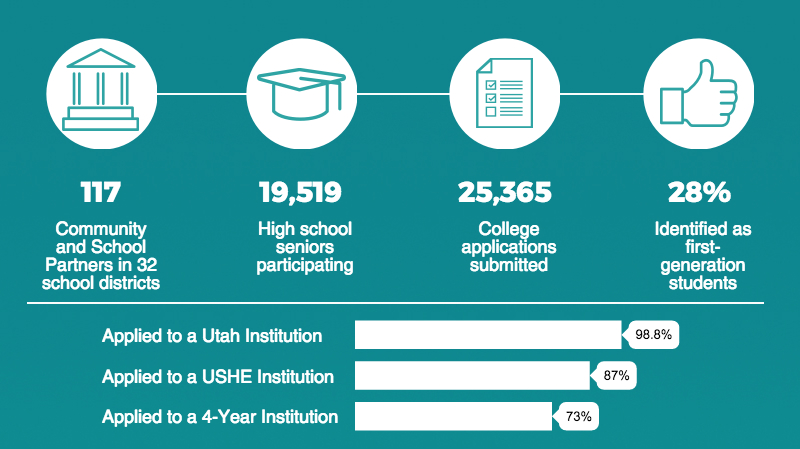 This year, due to changes in the Free Application for Federal Student Aid (FAFSA), students could apply for the FAFSA in November as they completed their college application through UCAW. The StepUp to Higher Education initiative from USHE held FAFSA Completion Open Houses in conjunction with UCAW events around the state, helping to solidify in students' minds that applying for financial aid is an integral part of the college admissions process.
Many UCAW partner schools hold College Signing/College Decision Day activities in May to celebrate students as they receive their college acceptance letters.
Utah College Application Week was started in 2013 with just 2,300 students participating. In just three years, participation has ballooned to 19,519 students, resulting in 25,365 college applications completed. The initiative is part American College Application Campaign (ACAC), a national initiative of the American Council on Education (ACE) to increase the number of first-generation and low-income students who pursue a postsecondary education. The purpose of the initiative is to help high school seniors navigate the college admission process and ensure each participating student submits a viable application during the school day in November with support from counselors, teachers, access groups, college and university representatives, or other volunteers.
More information on Utah College Application Week 2016 (PDF).