Twenty-two students from across the state convened in the Senate Building at the Capitol Complex for the inaugural Utah Intercollegiate Legislature (UIL) on Thursday, March 26 & Friday, March 27, 2015.  Drawn from the most recent class of legislative interns and student leadership at participating campuses, UIL students participated in a day and a half long legislative simulation of the Utah State Senate.  UIL delegates were encouraged to submit bills that were added to a reading calendar, considered in committees, and debated on the floor.   Topics of UIL bills ranged from concealed carry provisions to air quality amendments and exploring the expansion of the Frontrunner.
Representatives Patrice Arent (D, Millcreek) and Brian Ward (R, Bountiful) joined the delegates for dinner and an informal question and answer session Thursday evening.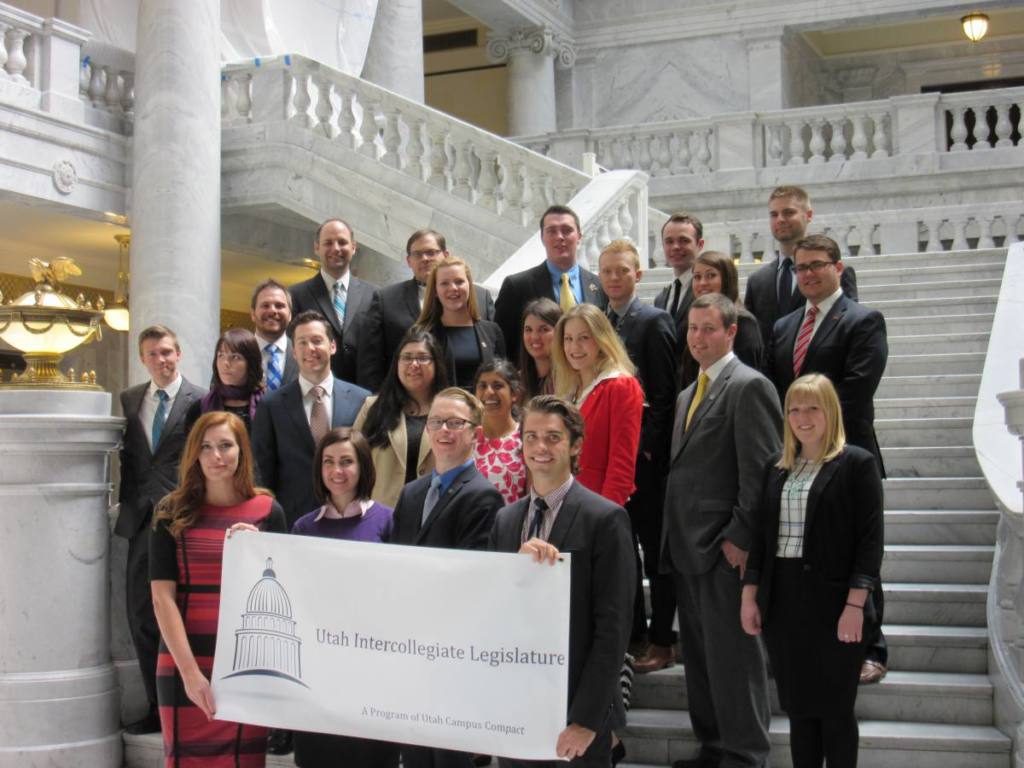 Andy Arnes, elected by his peers to serve as the 2016 UIL Governor, said, "I wasn't sure what
to expect but this has turned out to be a great experience."
 "UIL has been a labor of love, two and a half years in the making," revealed Alexis Bucknam,
Executive Director of Utah Campus Compact the program host. 
Bucknam and Eric Kirby, Director of the SUU Leavitt Center for Politics & Public Service, participated in a similar program as undergraduates at USHE institutions in the 1990s and felt strongly this was an opportunity that needed to be restored, particularly as youth engagement with government and voting declines.  Utah Campus Compact and the UIL Governing Council hope to include all of the higher education institutions in Utah next year.  2015 participating campuses included: Dixie State University, Southern Utah University, University of Utah, Utah Valley University, Weber State University and Utah State University.  Seed funding was generously provided by the Utah Commission on Civic and Character Education.