91% of eighth graders plan to attend college. However, statistics show, only about 50% of Utah high school students enroll in college after graduation. The Utah Scholars program is designed to increase the number of well-prepared students going on to college after high school by helping them set college goals before they get to high school.
Utah Scholars is introduced to eighth graders in class during their spring semester as they prepare to register for 9th grade–their first year of high school. The program focuses on helping students use their high school years as a launching pad to subsequent college success. The program lays out a 4-year high school course road map and invites students to sign up to receive college prep advice via monthly updates during grades 9-12, and personalized college-prep text messages their senior year. Students who complete their Utah Scholars curriculum receive a completion certificate and medallion to wear at high school graduation.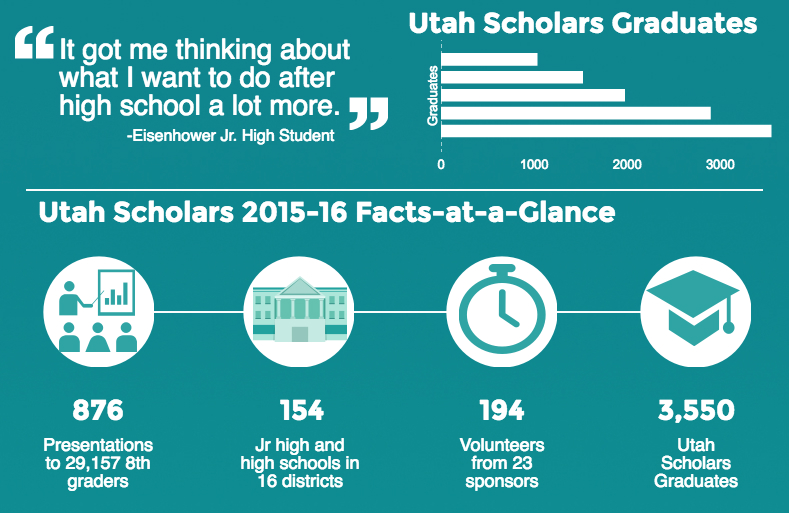 First started in 2007, the program has enrolled over 18,000 students in the past two years alone. The program is sustained by the support of 23 corporate and public sponsors who provided almost 200 volunteers during the 2015-16 school year. Volunteers gave 876 presentations to over 29,000 8th graders in 16 of Utah's 41 school districts – almost two thirds of all 8th graders in Utah.
In 2015-16 the program is expanding to 5 new partner districts: Box Elder, Carbon, Murray, North Sanpete, and Weber districts. The programs is also piloting a two-way text messaging service to high school seniors with messages tailored to prompt them to meet critical application and financial aid deadlines during the last year of high school. The Utah Scholars program is also supporting clubs at high schools for students who have an interest in learning more about college connecting them with "near peer" college mentors.