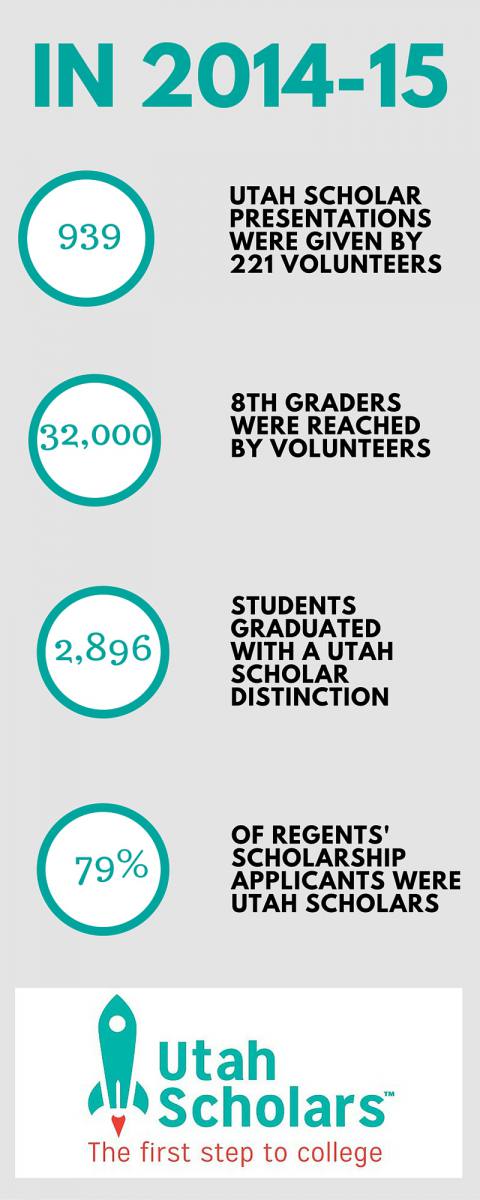 The Utah Scholars Initiative (USI) is a high-impact academic program to help students understand the academic preparation needed to be successful in college and in the workforce.  Utah Scholars complete a defined curriculum while in high school in order to be better prepared for college.  Utah Scholars is the outreach program for the Regents' Scholarship, students who complete the courses recommended through the Utah Scholars program will have also met the requirements for the scholarship.
Students first hear about Utah Scholars in 8th grade through presentations. These presentations are delivered by volunteers at Utah Scholars partner schools. Many companies have partnered with Utah Scholars and offer their employees volunteer opportunities to facilitate these presentations. In addition to introducing students to Utah Scholars, volunteers also share their personal experiences and passion about college.  In 2014-15, 221 volunteers from 41 organizations gave 939 presentations, reaching more than 32,000 8th graders enrolled in public school in Utah (76 percent of all 8th graders) which is an 8.85 percent increase from 2013.
In addition to Regents' Scholarship eligibility, students who sign up to be a Utah Scholar will also be better prepared for college courses, stand out to colleges, receive monthly messages about college preparation, resources, scholarships, and tips on how to stay on track for college. Upon high school graduation, students who complete the Utah Scholars program receive a certificate of distinction and  receive a medallion to wear at high school graduation.