As mentioned in a previous post, while the Utah State Legislature is in session, 93 college students from around the state of Utah get the opportunity to intern for state legislators. This internship gives college students the opportunity to take part first hand in the legislative process and interact with state leaders on key issues. Whether student interns are tracking legislation, providing constituent services, researching issues, coordinating appointments, or meeting with different groups, they are a central to helping legislators keep with the fast pace of the legislative process. Six out of eight of USHE colleges and universities have interns working for Utah Legislators. The degrees interns are pursuing vary across several disciplines including political science, history, biology, pre-engineering, communications, pre-medicine and business.
---
University of Utah, Jackie Moynihan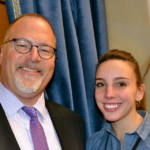 Jackie Moynihan is a senior at the University of Utah. She will graduate this spring with a bachelor's degree in History.  Throughout her four years as a student, the University of Utah's Hinckley Institute of Politics introduced Jackie to a number of unique and interesting internship opportunities. She has worked as a supplemental instructor and peer mentor at the university. She is currently working as a legislative intern for Senator Steve Urquhart, who represents Utah's 29th district and is the chair of the Higher Education Appropriations Subcommittee. As his only staff member, she spends a lot of time scheduling and planning, but also has the opportunity to work very closely with him. She has learned so much about Utah's policymaking process and is confident that this experience, and all of the new connections she has made, will benefit her greatly in the future.
Weber State University, Stuart Call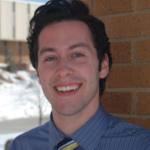 Stuart Call is a senior in Political Science at Weber State University.  He graduates in May of 2015, and is currently preparing to attend law school. Stuart has always been involved during his time at Weber State University and has loved his experiences there. He has been active in student government and is currently working as the Chair of the Student Board of Directors at the Olene S. Walker Institute of Politics and Public Service. During his last semester before he graduates, he is completing his sixth internship as the intern for Senator Ann Millner in the Utah State Senate. Of the experience so far, he says, "There isn't a better way to finish my undergraduate degree than with this in-depth application of my education through this internship."
Utah Valley University, Andrew Allen
Andrew Allen is a senior completing his last semester at Utah Valley University. He will graduate this May with a B.A. in Political Science and a minor in Constitutional Studies. During his time at UVU, Andrew has done internships for Congressman Jason Chaffetz,  the Utah State Legislature, and helped to found the Utah Valley University Office of New Urban Mechanics. This fall, Andrew will begin law school and is currently debating which school he will attend.
During his time at the Utah legislature, Andrew has been involved in all different aspects of the law-making process. He has helped draft legislation, coordinated with drafting attorneys, and provided relevant research and insights to his legislator, Senator Howard Stephenson from Draper. Being assigned to Senator Stephenson, who is very passionate about education and serves as the Senate Chair of the Public Education Appropriations Subcommittee, Andrew has had to learn a great deal about the role that the legislature plays in helping to craft education policy in Utah.