Concurrent enrollment provides an opportunity for Utah high school juniors and seniors to earn college credit at a USHE institution while still in high school. Originated in 1985 in Utah by what is now Utah Valley University, the concurrent enrollment program was formally established by the Utah State Legislature in 1988.
Concurrent enrollment is a valuable opportunity for Utah high school students. In 2014-15, more than ⅓ of all high school juniors and seniors in Utah participated in Concurrent enrollment, saving students an estimated in $32.5 million in foregone tuition. 80% of students enrolled in concurrent enrollment take 1-3 classes in one year. Over their high school career, 85% of students who take concurrent enrollment take 1-6 concurrent enrollment classes (52% of seniors take at least one class).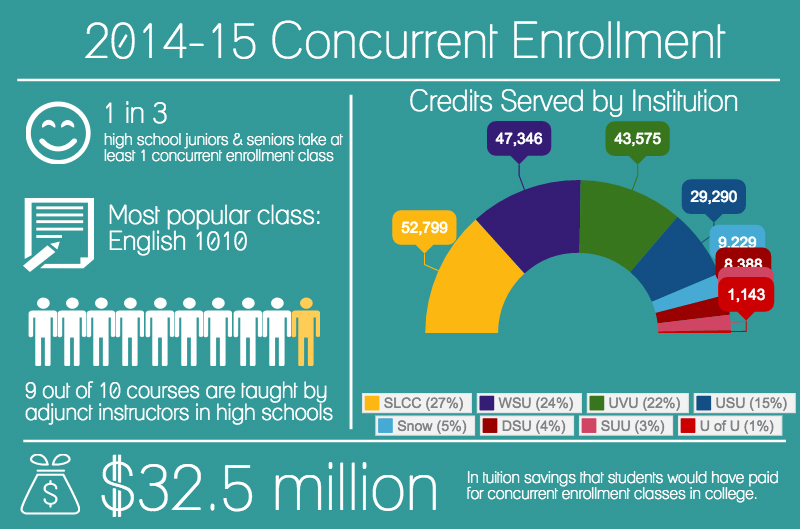 A recent analysis by the Commissioner's Office has identified some broader benefits of earning college credit in high school beyond tuition savings. The analysis has also identified some barriers in concurrent enrollment participation among underserved populations.
---
College credit earned in high school leads to better college performance
Not only do early college credit programs like concurrent enrollment provide substantial cost savings: students who earn any college credit in high school fare better later on in college. 
Students participating in concurrent enrollment are nearly three times more likely to attend college within four years of high school graduation than students who don't participate.

Utah high school students who earn any college credit—be it concurrent enrollment, Advanced Placement, International Baccalaureate or CLEP—reduce their time to degree completion by at least ⅓ for associate degrees and 17% for bachelor's degrees at a USHE institution.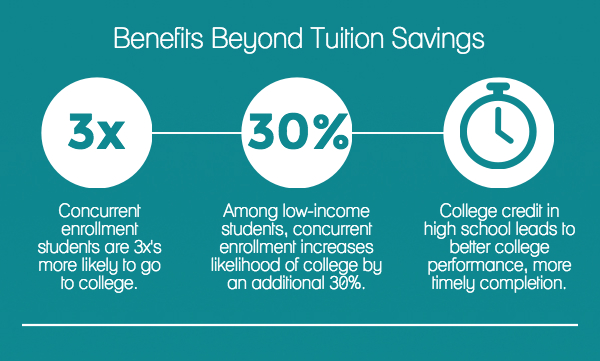 Participation among underserved populations lags
Concurrent enrollment has shown to have an even greater impact on low-income students. Low-income students participating in concurrent enrollment increase their likelihood of college attendance by an additional 30% when compared to non-low-income students.
Yet, barriers exist. Only 36% of low-income students participate in concurrent enrollment, compared to over half of their non-low-income counterparts. Additionally, concurrent enrollment participation lags the ethnic diversity of Utah's high school juniors and seniors. Hispanic seniors make up 16% of the overall 11-12 grade population, yet less than 10% of Hispanic students participate in concurrent enrollment.
The Board of Regents recently adopted the a 10-year strategic plan with three primary objectives: affordable participation, timely completion and innovative discovery. According to these findings, increased efforts to help underserved high school students earn college credit before graduation is one way to improve the state's college attendance and completion rate of Utah high school graduates, two of the three objectives of the Utah State Board of Regents' Strategic Plan 2025.