In an effort to encourage young students to begin dreaming of what they want to be when they are adults—and to emphasize that college is an important part of achieving that dream—the Utah System of Higher Education (USHE) commissioned the creation of a children's book, Monte and the World of Possibilities. 4,550 Read Today volunteers will share the story with children in schools across the state over the next several weeks. Approximately an additional 3,000 copies will be distributed to libraries throughout Utah.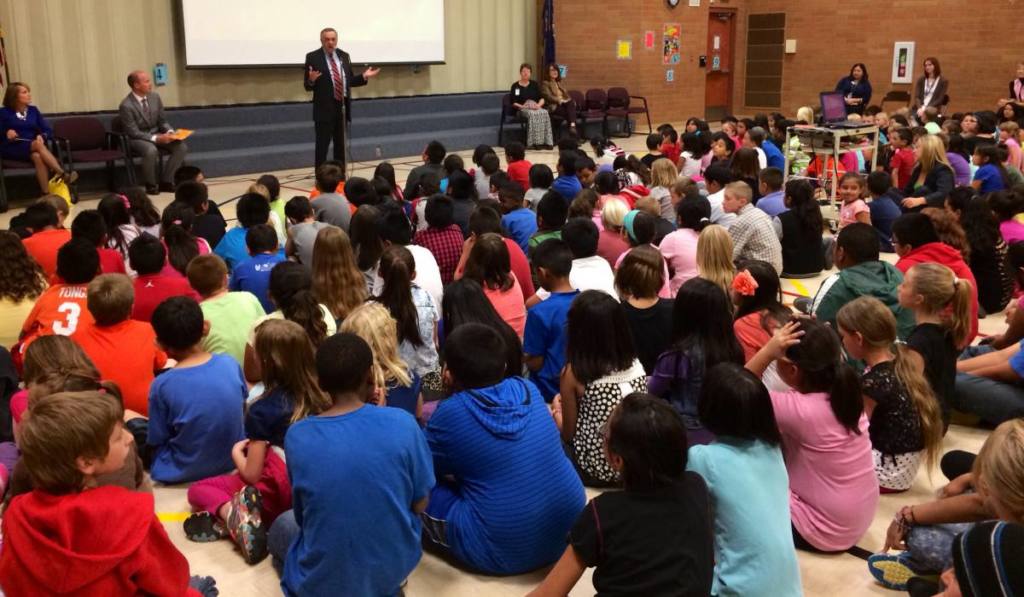 A book launch event took place on Tuesday, October 7, 2014, during an assembly at Beehive Elementary (5655 South 5220 West), where Nadine Wimmer, CEO of the Read Today program, introduced guest readers Commissioner of Higher Education Dave Buhler and Lieutenant Governor Spencer Cox. Each student at Beehive Elementary received a copy of the new book.
"It is crucial for children to be introduced to the idea of going to college early and for the college discussion to happen often. Every child needs to understand they can accomplish their dreams through education. This book is one of the many initiatives in the StepUp to Higher Education campaign working to do just that," said Commissioner Buhler.
The children's book is part of the StepUP to Higher Education campaign, which encouraging young Utahns to dream big about their futuresby preparing for and completing college. The StepUP to Higher Education campaign houses several outreach initiatives, including:
•  Publishing the annual College Guide, which is distributed to junior high and high schools throughout the state;
•  Administering the StepUP READY grants, further encouraging partnerships between high schools and colleges; and
•  Coordinating Utah College Application Week, which works to give every high school senior at partner schools the opportunity to complete at least one college application during the school day, with a particular focus placed on students who would be the first in their families to attend, low-income students, or students who may not have otherwise considered applying.
In the children's book, the main character Monte has a lot of questions about the world around him, with one of them being, "Can I go to college?" In the end, he realizes that school, and college in particular, can help him follow his dreams. The book was developed for second and third graders, and an online toolkit of activities, complete with a PDF of the book, is available for free for teachers and parents to incorporate into their college discussions with students.