The latest report from Payscale.com compares the projected return on investment (ROI) of a college education from public versus private colleges. While a degree from both types of institutions provides an ROI greater than just a high school diploma, the gap between the ROI of  a public institution and a private one continues to grow.
Payscale calculated the ROI using cost data obtained through the Integrated Postsecondary Education Data System (IPEDS) run by the US Department of Education, including tuition and fees, room and board, as well as books and supplies for each school year for the four-year window. Salary data is based on a survey of 2.8 million respondents with salary data from alumni of more than 1,000 private and public colleges.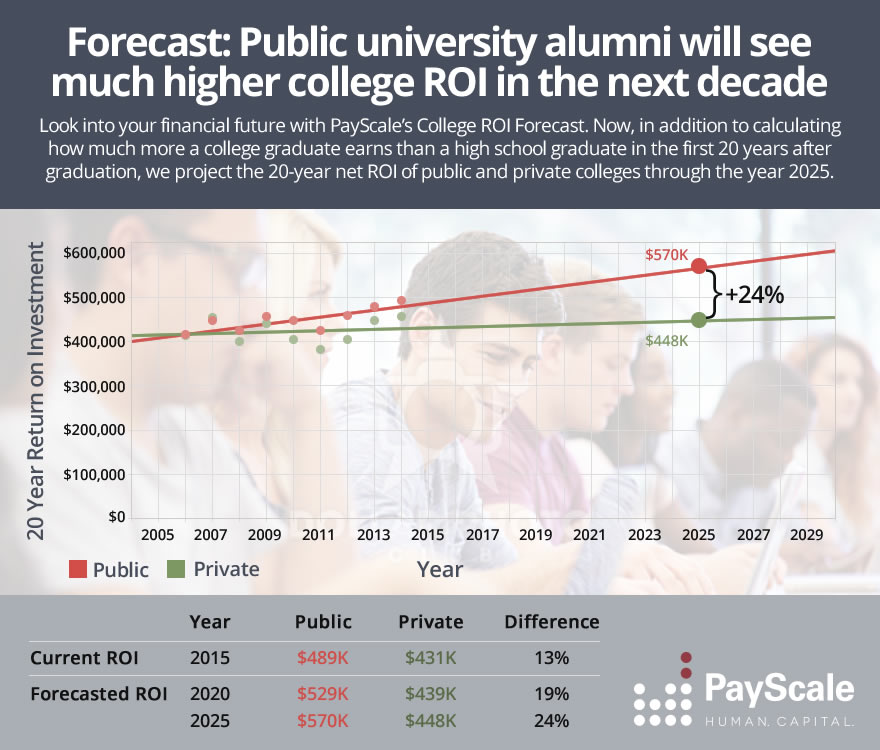 The 20-year ROI of a college education will continue to grow over the next ten years. Further, the median college ROI from public colleges will actually exceed the median ROI from private colleges by 24 percent a decade from now. There are a few factors contributing to the growing gap:
Tuition
It's well-known tuition has been increasing for decades. The primary driver of tuition increases for public higher education is decreased state funding.  Fortunately in Utah, tuition for a four-year public institution is the third lowest in the country. This is a direct result of state funding for higher education, which is relatively stronger than other states.
Stagnant wage growth
While college costs have been increasing, real wages—accounting for inflation—have been flat or even falling for decades, according to a report published last year by the Pew Research Center.
College majors matter
Data shows a college degree, no matter the major, yields a greater monetary return than a high school diploma or even some college (without completing a degree). However, not all majors pay the same. Understandably, higher salaries exist in high demand, high skill and high growth industries, such as STEM (science, technology, engineering and math) and healthcare. In addition, those same areas of study are some of the most competitive and capacity-limited at colleges and universities due to the technical and high demand nature of those programs.
---
The study's author sums up today's college selection environment: "College is almost always 'worth it,' but gone are the days of picking a school off a 'top 10' list, choosing a major without understanding how it translates into a job and hoping for the best." She offers three bits of advice for getting the most out of a college investment:
Go to a college you can afford
Commit to your education
Stop trying to figure out the "perfect job"
Additional information: