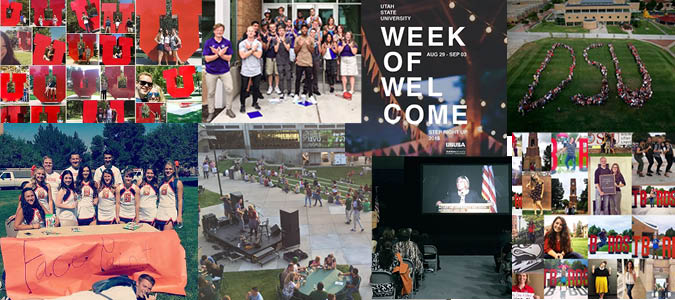 Universities and colleges within the Utah System of Higher Education (USHE) have started their fall semester, or will be shortly. Each institution offers a variety of back-to-school events for returning and new students.
University of Utah
The University of Utah kicked-off their Welcome Week last week, which included a parent and family luau, a new student welcome address by President Pershing, a welcome back bash, and a Block U Class of 2020 photo, scheduled for this Friday. More photos.
Utah State University
Utah State University will welcome students to campus starting August 29. The agenda is packed with meet and greets with various student groups, games, free food, a music festival, movie nights, dances, and a football game. The well-known "Blood Battle" will also take place, where USU will compete with Weber State University for the highest number of pints of blood donated in one week. More photos.
Utah Valley University
Utah Valley University's first day of classes was this Monday. UVU held freshmen convocation on Monday which is a commemorative-style event that encourages students to bring their families to help celebrate the beginning of their college experience. New students take the UVCommit pledge stating they commit to stay and graduate from UVU. Following the convocation, a free barbecue dinner and after-party were held for all new students and their families. More photos.
Weber State University
Weber State University's Experience Weber Overnight Adventure will take place this Thursday where new students can attend an extended overnight camping orientation and participate in outdoor activities at Pineview Reservoir. Students will also compete against Utah State University in the annual "Blood Battle" to see who can donate the highest number of pints of blood in one week. More photos.
Southern Utah University
Southern Utah University's President Scott Wyatt welcomed new students at the Carter Carillon Bell Tower, an SUU tradition, and new students spent their first day playing games, meeting new fellow students, and getting their new student ID's. More photos.

Dixie State University
Dixie State University's Week of Welcome kicked off Monday, which is the first large event welcoming students to campus. Events throughout this week include carnival games, activities, and meet and greets. President "Biff" Williams sat in the dunk tank at the opening of the Week of Welcome Carnival to help welcome students back. More photos.
Salt Lake Community College
Salt Lake Community College's President Deneece Huftalin welcomed students, faculty, and staff back to school during their convocation.Various events will take place during the first few weeks of the fall semester at the Jordan, South City, and Taylorsville Redwood campus. More photos.
Snow College
Snow College back to school events kicked-off on Monday with a new student welcome from President Carlston, a variety of workshops, lunch events, community fairs, and meet and greets. More photos.