Students guaranteed interview for full-time job
Talent Ready Utah, housed within the Utah System of Higher Education, in partnership with Utah PaperBox, Salt Lake Community College, Salt Lake City School District and Salt Lake Education Foundation, on November 9, 2023, announced a partnership expansion for the Talent Ready Apprenticeship Connection (TRAC), the state's youth apprenticeship program. Utah PaperBox joins TRAC as the newest industry partner in the Advanced Manufacturing program. 
TRAC is designed to provide meaningful work experience for students engaged in learning the skills they need for a successful career. Students split their time between the classroom and workplace, applying knowledge through hands-on learning and practical experience. As part-time employees of Utah PaperBox, students earn a wage while pursuing a high-paying career and earning an Associate of Applied Science degree. By linking the efforts of industry and education, the TRAC program creates a model that benefits students and businesses.
"The Talent Ready Apprenticeship Connection creates tremendous opportunities for students and employers by establishing partnerships to increase the talent pipeline in Utah," said Interim Commissioner of Higher Education Geoff Landward. "Talent Ready Utah's vision for TRAC is to establish additional programs across all major industry clusters, providing students access to quality training offered through Utah's educational systems and offering employers a reliable solution to growing and shaping their workforce, resulting in a strengthened economy."
TRAC was established in 2019 with the passing of SB 138, Utah Apprenticeship Act. The program seeks to expand a qualified workforce with Mechanical and Electrical technical Skills that serve the broader advanced manufacturing industry. As an industry-general youth apprenticeship program, employers benefit from a cohort-style apprenticeship, where students from various employers bring their work experience to the classroom and learn common theoretical knowledge together. TRAC provides industry and education with a collaborative space to enhance classroom outcomes and prepare a more qualified workforce with industry-relevant skills. Students learn skills such as safety, manufacturing principles, material science, tools and their uses, reading and writing schematics, assembly, as well as soft skills like professional communication and leadership.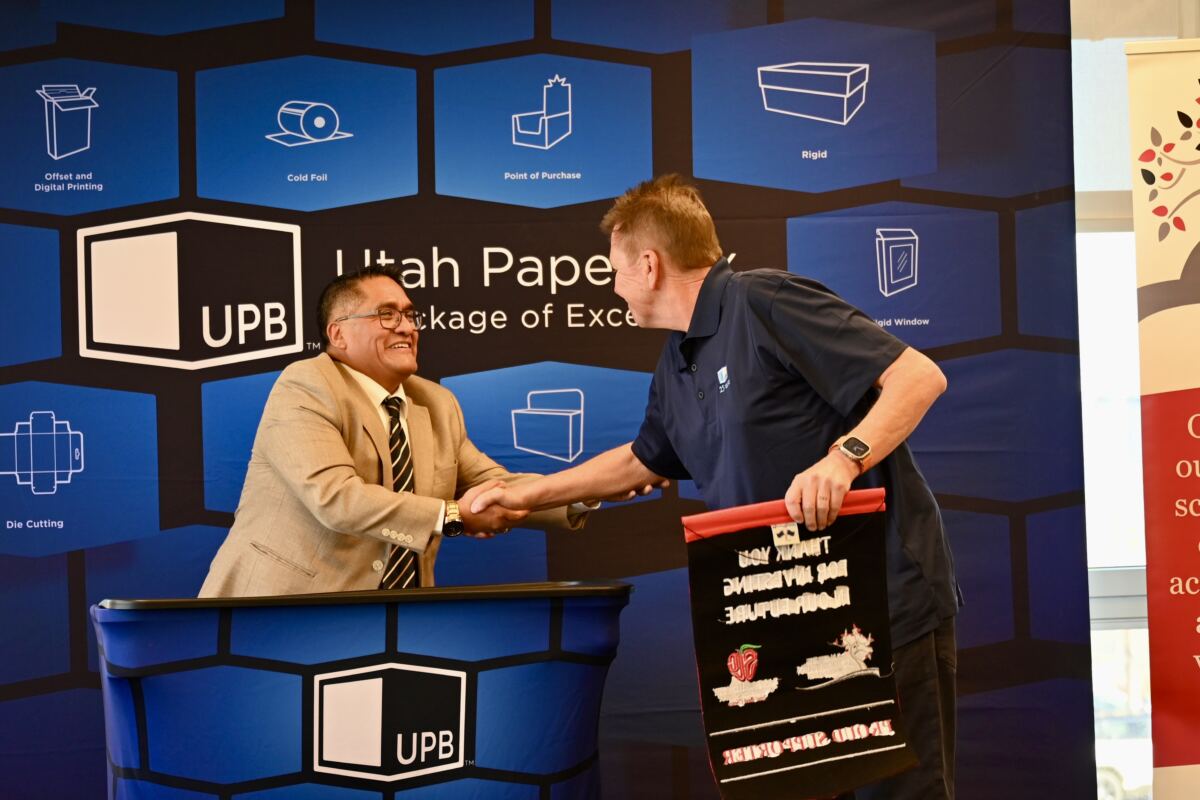 "Salt Lake City School District is honored to partner with Utah PaperBox in creating a manufacturing apprenticeship program for our students," said Dr. Elizabeth Grant, Superintendent of Salt Lake City School District. "To have the first – and only – two youth apprenticeship programs in the state in our school district reflects our commitment to building career and college pathways for our students. We are grateful to the partners who are helping us serve our students through these important programs.
Through this expanded partnership, Salt Lake City School District senior students will earn college credit and professional experience in the first year of the apprenticeship. Upon first-year completion, students can then attend Salt Lake Community College tuition-free, thanks to Utah PaperBox, to complete the final two years of the apprenticeship.
Utah PaperBox is the second Utah business to participate in the TRAC model. After successfully completing the three-year program, students are guaranteed an interview for a full-time job at Utah PaperBox.
"Utah PaperBox is very excited to launch this program," said Steve Keyser, CEO of Utah PaperBox. "I have seen apprenticeship models work since the early 2000s during my business travels in Germany and Switzerland. I have always wanted to give students the opportunity to explore trades in the U.S. and show them it can be a lucrative career option,"
"Our goal is to continue to bridge between our schools and business industry to support our students with career opportunities," said James E. Yapias, Senior Director of Salt Lake Education Foundation.
"This partnership is a perfect example of a career focused, high-quality program where the results equal student success. These apprentices earn a wage while they learn a career. It's an exciting time for Salt Lake City's students!"," said Laura deShazo, Career Technical Education Director for Salt Lake City School District.
A youth apprenticeship can help youth map a course to a successful career without spending valuable time and taking on debt that is sometimes required to complete a four-year degree.

Learn more about the Talent Ready Apprenticeship Connection here.
###
ABOUT THE UTAH SYSTEM OF HIGHER EDUCATION
The Utah System of Higher Education (USHE) is governed by the Utah Board of Higher Education and is comprised of Utah's sixteen public colleges and universities. Talent Ready Utah is housed within the Office of the Commissioner of Higher Education. For more information, visit ushe.edu.
ABOUT UTAH PAPERBOX
We at Utah PaperBox trace our roots to 1914, when the company was known as Union Label. Purchased in 1922 by George Keyser and renamed Utah PaperBox, our primary focus for the next five decades was the Rigid box business. In the 1970s, the market emphasis shifted to folding cartons. So, we added offset printing and platen die cutting to our capabilities. Although rigid box production remains an important business component, we grew substantially in Folding Cartons, and it remains the core of our business today. To celebrate the new millennium, we entered into Litho-Laminating, considerably expanding packaging options for our customers. In the last decade, we have seen many additions to our facilities and services, including cold foil and digital printing.
ABOUT SALT LAKE EDUCATION FOUNDATION: The Salt Lake Education Foundation supports every student in the Salt Lake City School District, helping ensure they achieve their goals in and out of the classroom. The foundation relies on the community's support to help students, whether it is volunteers helping with a school musical, gifts of food for families or funds to assist with elementary STEAM activities. For additional information, visit www.saltlakeeducationfoundation.org.
ABOUT SALT LAKE CITY SCHOOL DISTRICT: The Salt Lake City School District (SLCSD) is Utah's capital city school district. With more than half of SLCSD students coming from a minority racial or ethnic background, most students coming from low-income households, and more than 80 languages spoken by district families, it is also one of the state's most diverse. SLCSD prides itself on its robust academic and extracurricular offerings, its inclusive academic environment, its focus on supporting students' social and emotional learning, and on promoting excellence and equity: every student, every classroom, every day. For more information, visit www.slcschools.org.