Chair Lisa Michele Church (Left); Vice Chair Jesselie Anderson (Right)
Four new Board members sworn in
The Utah Board of Higher Education welcomed Lisa Michele Church as chair during its meeting hosted at Southern Utah University today. The Board also welcomed newly appointed Vice Chair Jesselie Anderson, and four new Board members were sworn in.
Church and Anderson were unanimously selected to serve in these leadership roles at the Board's May meeting. Church follows Harris H. Simmons who served as chair since 2018. Vice Chair Anderson follows Nina R. Barnes and Aaron V. Osmond who served as co-vice chairs of the Board.
At the May meeting, Lisa Michele Church addressed the Board saying, "I am very passionate about my advocacy. I feel like the System is in great shape, thank you [Chair] Harris [Simmons] and [Vice Chair] Nina [Barnes], and all of you who are leaving for leaving it in such great shape. I look forward to working with the presidents, staff, faculty, and communities…Thank you for your confidence."
Vice Chair Anderson was not present at the May meeting, but later added, "I've dedicated many years to higher education in Utah—it's something I have great passion for, and I look forward to serving the Board in this leadership role."
Newly sworn in Board members include Stan Albrecht, Julie Beck, Rich Christiansen and Steve Starks. Grace Acosta, Hope Eccles, Richard Wheeler and two student members including Heather Johnson (technical college representative) and Xitlalli Villanueva (degree-granting representative) are expected to be sworn in after Senate confirmation at the Board's September meeting.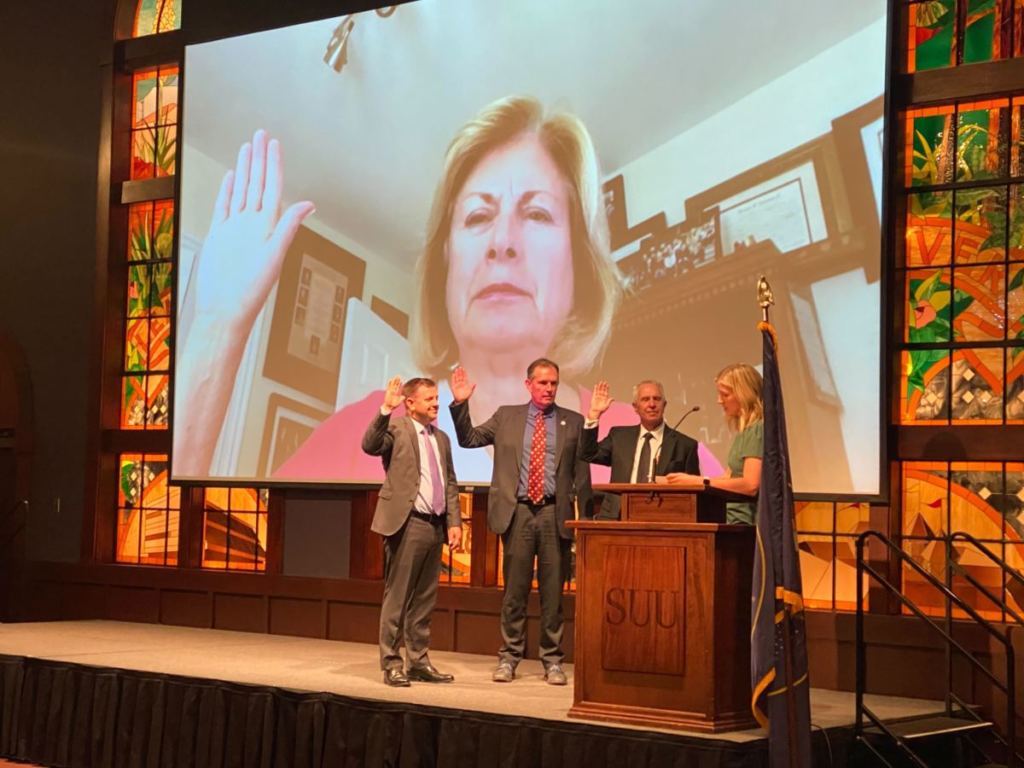 Church's professional background includes more than 30 years of public and private service as an attorney and community activist. She served as Vice President/General Counsel for a Utah-based Fortune 500 company where she was involved in negotiating the venue agreements for the 2002 Salt Lake City Winter Olympic Games. She served in the Cabinet of two Utah Governors where she advocated for issues of social justice at all levels, from helping individual families negotiate the challenges of mental illness to advocating at a national level for more effective substance abuse prevention strategies during Utah's methamphetamine epidemic. Her community volunteer service focuses on issues of social justice, especially for youth and women who need additional advocacy. She is a first-generation college graduate and sees the importance of providing college education across all groups in Utah. She is also passionate about bringing resources to unsheltered youth through service with Volunteers of America.
Anderson previously served as Chair of the Salt Lake Community College Board of Trustees and a member of the Westminster College Board of Trustees. She is active in community affairs and currently serves on the governing boards of the University of Utah's National Advisory Council, Success in Education Foundation, and I.J. Wagner Foundation. She is employed by Barlow Corporation. Ms. Anderson received a B.A. in Political Science from the University of Utah. She and her husband, Scott, are the parents of three children and six grandchildren.
Full biography information and additional headshots can be found at ushe.edu/board/about-the-board.