Last November 2015, the Utah System of Higher Education sponsored Utah College Application Week (UCAW) events at high schools and community centers around the state for the third year. UCAW gives every high school senior in participating schools the opportunity to apply to college during the school day, with a particular focus on first-generation and low income students, who are less likely to apply to and enroll in college. Higher education leaders, partnering with K-12, worked with thousands of high school seniors as these students applied to college. The number of student participants nearly doubled in a single year, from approximately 11,000 in 2014 to over 20,000 in 2015.
Presidents and key officials from Utah's public colleges and universities kicked off UCAW in November 2015 by speaking to high school seniors about the importance of postsecondary education. Governor Gary Herbert declared November 2015 "Utah College Application Month" to raise awareness of the importance of the college application process in the state. November was "National College Application Month" as well.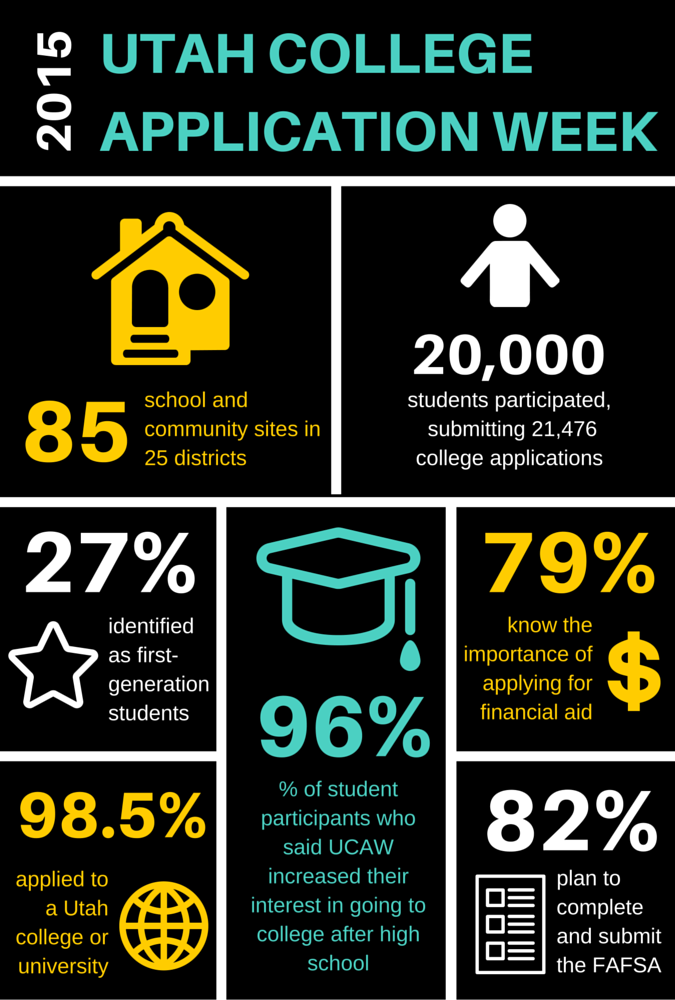 Background
The American College Application Campaign (ACAC) is a national initiative of the American Council on Education (ACE) to increase the number of first-generation and low-income students who pursue a postsecondary education. The purpose of this initiative is to help high school seniors navigate the college admissions process and ensure each participating student submits at viable application during the school day in November, with support from counselors, teachers, access groups, college and university representatives, and other volunteers. Additional activities and programming include FAFSA completion events through the fall and spring, and celebrating a student's decision to attend college at College Signing/College Decision Day in May.