Background: Completion Initiative
In July 2013, the Board of Regents unanimously passed a Completion Resolution, with five specific recommendations: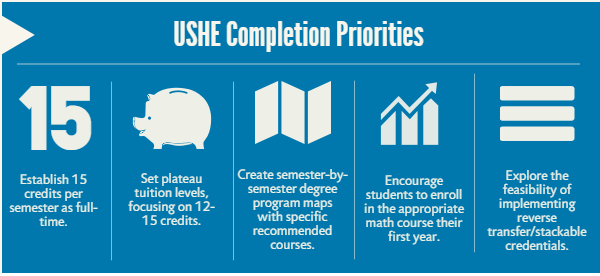 With support from the Utah System of Higher Education (USHE), institutions have worked hard and made good progress on these strategies, in particular, strategies 1-4. The fifth strategy is challenging and merits further focus to help increase the number of Utahns who complete a college degree or meaningful certificate.
Why reverse transfer?
Utah ranks second-highest in the nation for number of individuals with "some college, no degree" (28.1% of 25- to 64-year-olds). Many factors can impact a student's ability to persist and finish college, including: pausing or delaying college for charitable or religious service, life events like marriage or family, or working a job to help finance college. Unfortunately, these factors also begin to work against a student's likelihood of completing a college degree.
Benefits of reverse transfer
Reverse transfer is a process where students can transfer credits from their four-year institution back to the sending institution to satisfy the requirements for the degree. With nearly half of USHE students attending more than one institution, reverse transfer recognizes the student's achievements, and the associate degree can serve as encouragement for students to complete an additional credential.
Some benefits of reverse transfer include:
Students with an associate degree are more likely to stay in school and finish a four-year degree program.
Graduates will have two degrees on their resumes, more accurately reflecting their skills and training over time.
Students who do not complete a four-year degree will still have a credential on their resumes, helping with career goals. If they decide to return and complete a bachelor's degree later, transferring will be easier and they will move more quickly towards completion.
If the associate degree is in a more technical or applied area than the bachelor's degree, this can be attractive to a future employer who is looking for someone with experience in the hands-on and theoretical aspects of a given field.
Two-year colleges will benefit from a more accurate reflection of the time and resources they have invested in these transfer students, and will gain credit in their completion outcomes.
What's being done to improve and grow reverse transfer in Utah?
In 2014, through a newly formed Adult College Completion Working Group and Complete College Utah, USHE addressed these issues, with the following results:
Institutions have made it easier for students who have completed the requirements for an associate degree to receive that degree.
More stackable credentials have been created and the number of students completing certificates has risen.
USHE has embarked on a pilot with the Council for Adult and Experiential Learning (CAEL) to further explore Prior Learning Assessments (PLAs), aimed particularly at adult learners. PLA attempts to address a broader portfolio of experience an adult learner has that may help in earning a college certificate or degree. This initiative is being piloted at Weber State University and Utah Valley University for the upcoming 2015-16 academic year. Also, Salt Lake Community College is one of 40 colleges nationwide working with the U.S. Department of Education experimenting with competency-based education and prior learning assessment, granting them a waiver from certain rules that govern federal financial aid.
However, more work remains to adequately serve and graduate adult students. The practice of reverse transfer has started to attract national attention for the potential to help students achieve benchmarks on their way to a degree, and to help students whose plans change leave institutions with a credential.
During the next year the Commissioner's Office will seek heightened public visibility of initiative number five, which directly addresses the success of adult students. The ultimate goal is to increase the graduation rates of adult students and decrease the number of Utahns with "some college, no degree."